You Dont have to Suffer!
Dr. Sevak Ovsepyan has proven methods,
that can help you. Call Us Today!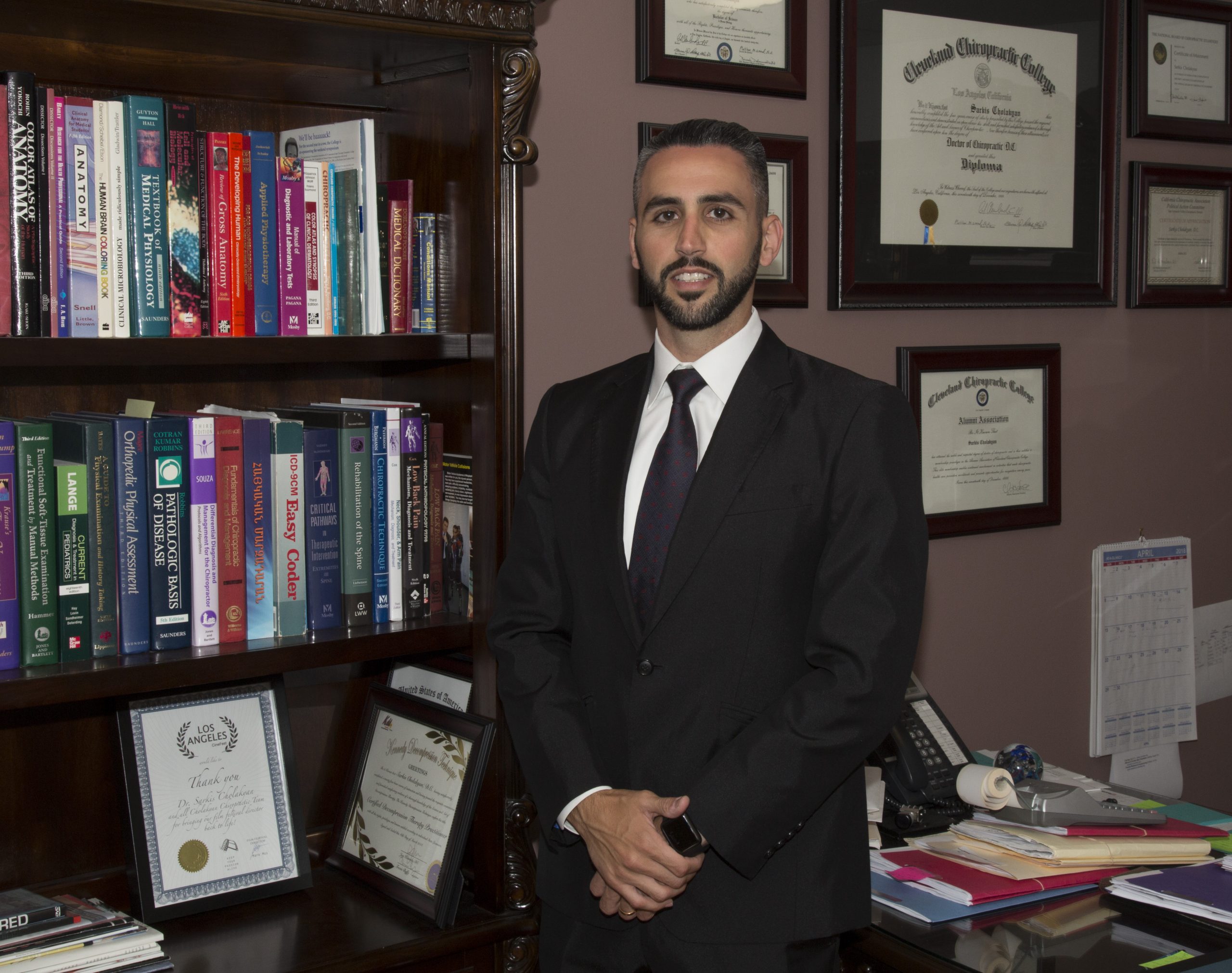 Dr. Sevak Ovsepyan earned his Doctorate of Chiropractic Degree from Southern California University of Health Sciences in 2014 and is a board-certified licensed Chiropractor in the state of California. He is a Radiography X-Ray Supervisor and Operator with the Californian Department of Public Health.
Dr. Ovsepyan's career helping others began before chiropractic when he worked as an EMT (emergency medical technician). He turned his passion for helping others into a more direct approach with chiropractic. His background in water polo, swimming, soccer and martial arts give him an edge in treating sports injuries.
Complete Chiropractic Care
Dr. Sevak Ovsepyan's Chiropractic provide expert non-surgical treatment to relieve pain, immobility, and other conditions that interfere with a full life. Among the causes of discomfort that our chiropractor and his staff treat are back pain, neck pain, and work injuries.
I was referred by a friend when I woke up with the worst neck pain . Parking was super easy , facility was super clean and Dr. Ovsepyan was a… read more complete professional . He was very thorough and explained every step as we went through the process . Walked out with a ton of relief from the pain. Will definitely be back !!! Thank you again !!

Ani B.


8/31/2022

I have been coming to see Dr. Ovsepyan over the years and have always trusted his expertise. I find myself barely standing up straight and limping from the car with… read more pain all over. Even after the first session, you feel a million times better. If you are searching for a DC that will work with you to fix most issues, you need to check out Dr O! I recommend him to family and friends who complain of back or shoulder pain.

Mike H.


8/27/2022

My wife had pelvic pain after childbirth, we got the first session and already see the result.  the staff is very polite and friendly, Dr. Sevak is a professional in… read more his field. I will definitely visit them again

Armen Z.


8/05/2022

Been getting treatment for weeks now with Dr. Ovsepyan…this man knows what he is doing! The staff is so friendly, and the doctor himself is always in such a good… read more mood and very motivational when it comes to your healing process! He helped me get out of my rut, and start taking care of my body! Can't recommend him enough.

Nare O.


8/02/2022

Dr. Ovesepyan was great, he helped me out with my back pain and straighten me out. I had back issues and pinched my sciatic nerve and he helped me fix… read more the issues. Thank you and I will recommend him to anyone.

Edgar B.


7/20/2022

Been going to Dr Ovsepyan for years now and he always gets the job done. He is my go to guy when my back acts up and he is always… read more able to see me same day. The place is very clean the staff is wonderful and the Dr is very knowledgeable and professional.

Yuri A.


7/14/2022